Technical Meeting #12: Software design
This meeting took place at 14:00 on Wednesday 27 October. Attendees: JSY, MF, EBS.
Agenda
Software requirements for our testing

Image display for setup purposes
Temperature logging
Centroid logging
Anything else?

Open Design Issues

Choose ISS interface flavour: "C" (threads/processes)/"C-no-threads" (event loop)
Can we use floating point in Xenomai kernel-space real-time?
How to transmit dark/flatfield frames to/from ISS?
How to receive off-axis/dispersion offsets from UTCS via ISS?

May need to account for future off-axis offsets when choosing initial position of subframe on FTT Mode start

Choose GUI toolkit

Plan for camera loan
Discussion slides
Conclusions
The upper diagram shows the FLC software tasks and dataflows as presented at the CoDR. The lower diagram includes changes discussed at this meeting, some of which are to support our component and integrated tests. Software requirements for the tests are summarized in a separate report.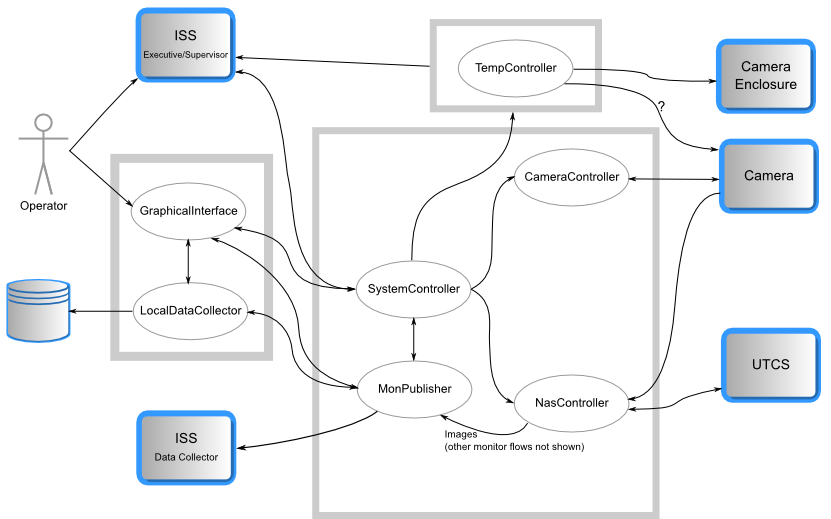 Changes from CoDR
GraphicalInterface and LocalDataCollector grouped into single process

Cambridge-supplied LocalDataCollector
ISS Data Collector probably not suitable as LocalDataCollector (e.g. issues with retrieval of recorded data), and unlikely to be ready in time

ISS Data Collector shown

Will not be present in standalone role (neither will ISS Executive/Supervisor)

TempController (EnvController?) has interface to ISS

Allows ISS to query state for this process

Division of tasks between main process and TempController depends on I/O device sharing issues - to be investigated

TempController could control power on/off for camera ("?" on diagram)
Implementation Details
Expect to use threads for multi-tasking, with shared data (no ZeroMQ). Thread locking issues not anticipated to be excessively complex
Main FLC process will have built-in image display capability for debugging, implemented using X11 libraries
We will write a Data Analysis GUI in Matlab (not shown)

Reads files recorded by LocalDataCollector
GraphicalInterface will still include commonly-used diagnostic displays

Expect to use dlmsg protocols for publishing to LocalDataCollector, with recording to DL-style FITS files

Facilitates collection of metrology data from DL metrology subsystem
Can use DL workstation software as interim LocalDataCollector

GraphicalInterface will be implemented using C/GTK+ or C++/gtkmm
New Tasks
EBS: Investigate ADC/DAC/digital I/O interface cards and device sharing issues
EBS: Investigate whether floating point is allowed in Xenomai real-time code
MF: Try reading example FITS image time-series into Matlab